THIN-FILM TEMPERATURE SENSORS
We propose the thin film temperature sensors made ​​on the basis of the platinum resistor and having long term stability, durability and reproducible of performance. It is used for precise temperature control of processes.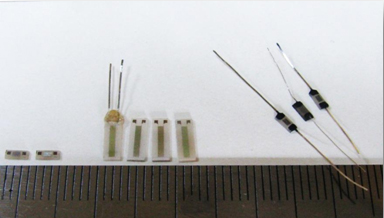 SPECIFICATIONS
Temperature range of measurements

minus 200…+1000 0

С

Sensor's resistance at

Т

ENV

=

00

С

(R0)

100,

20

0, 500, 1000 Ohm

Temperature coefficient of sensor (αT)

0,00385 ± 0,63

x

10-4

Spread at

R0

minus 0,6 …+ 0,2 %

Response time

0,15 …05 s

Overall dimensions without leads

3,1

x

1,3

x

1,2 mm

Leads length

10…15 mm
GPRS MODEM-CONTROLLER GMC-1
The GMC-1 is intended for acquisition and transmission of data, about of controllable object condition, through a cell-communication network to the server.
The GMC-1 includes:
the SIM900 system from GPRS module;

processor

;

signals matching module

;

external GSM-antenna

.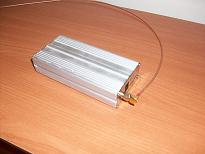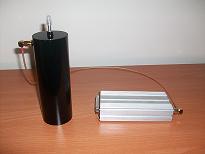 The modular construction of the device and presence of the programmed processor allow using it in various systems of remote supervision and management.
The clock of a real time and reserve Li-Ion the accumulator , providing operation of controller at switching-off of an external feeding are built in the controller.
The device supports following interfaces: RS-485, RS-232, I2C, SPI, ONEWire.
Functional capabilities:
SMS sending and receiving;

Data transmission and reception by GPRS;

Reception and transmission of voice calls;

Indication about of registration in the GSM network;

Presence of dialing fixing number;

Access implementation to SIM only through defined GSM network's operator.
SPECIFICATIONS
Number of digital input/output

40

Number of analogue inputs (0...3V)

16

Supply voltage from constant-current source

6...40

V

Supply voltage from internal accumulator

3,7

V

(1

A per hour

)

Current consumption at call waiting

30

mA

Current consumption at data transmission mode

300

mA

Operation time at feeding off-line mode, no more than

-

at call waiting mode

33

h

- at data transmission mode

3

h

Current peak value

2

A

Digitization speed

500

ksps

Mobile class

B

GPRS standard

class

10